Battle of the Boxes: Apple TV, Fire TV, Android TV, Chromecast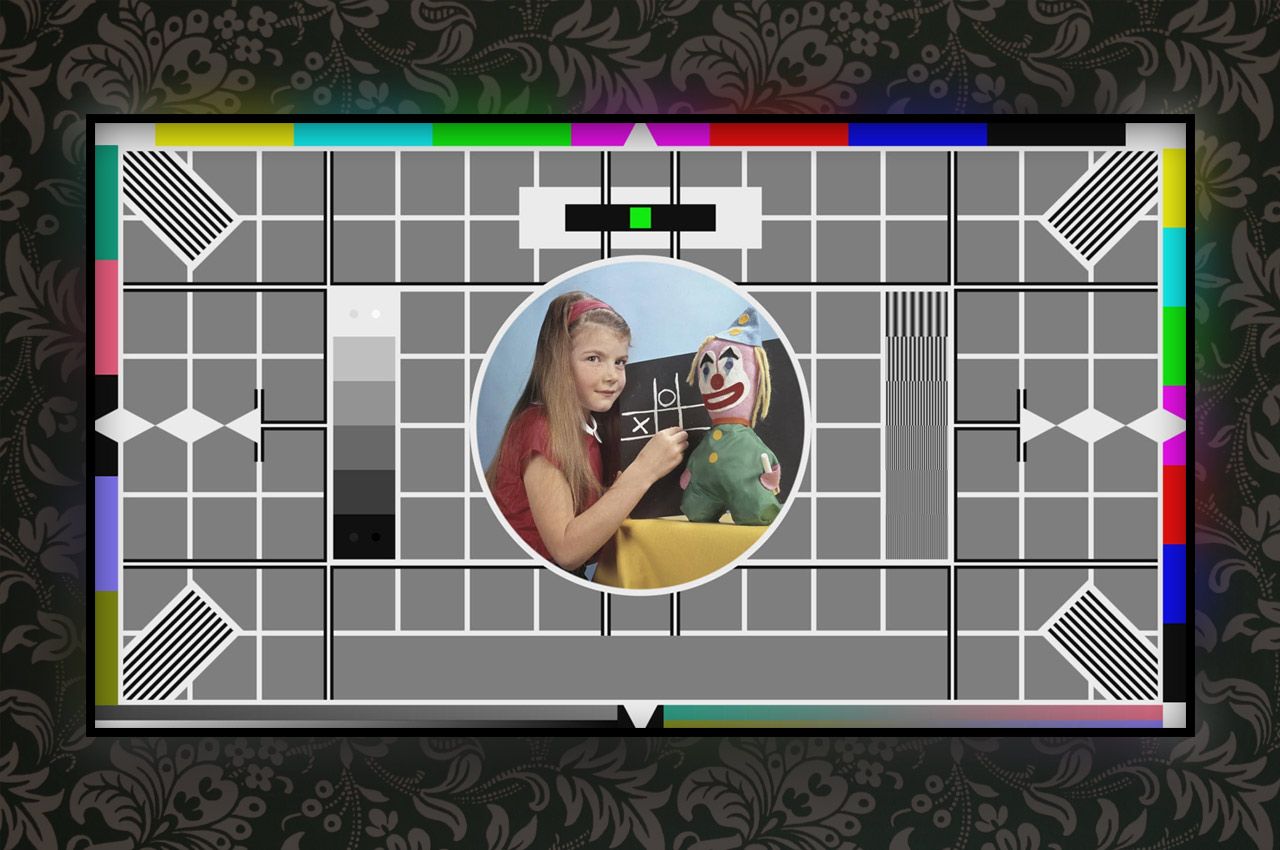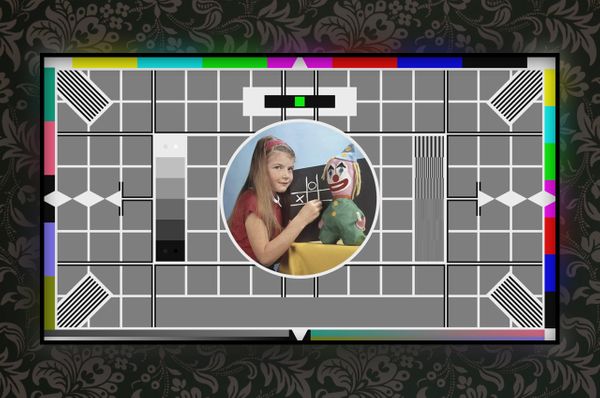 A few years ago I "cut the cord", cancelled my TV License and cable subscription. Back then I used a 3rd generation Apple TV with subscriptions to Netflix and Now TV alongside my vast number of YouTube subscriptions.
I've since tried what feels like every box or stick that displays web content on your TV. All have their own interfaces, experiences, content options, and trade offs. Which box works for you will depend on your requirements.
My Requirements
While your requirements will undoubtedly differ I think it's important to understand what requirements I'm testing these boxes and sticks against.
I'm using a dumb, 1080p, SDR TV so 4K or HDR isn't important for me.
Ideally I want a device that includes a remote.
I like the option of being able to send media from my phone to the TV and I use an iPhone.
The interface needs to be clean and easy to use (I'm a little bit of a UI snob).
Quiet. There's a reason I don't use a game console as a TV box because they traditionally have fans that are audiable when watching films.
Voice search would be a nice to have.
I also have a couple of content requirements:
YouTube - Probably my #1 source of video. It needs to be a good YouTube experience that supports 1080p 60fps.
Netflix
Amazon Prime
Spotify
UK channels (BBC, ITV, Channel 4, 5)
---
Testing
By looking at each option individually and breaking it down into distinct sections it's easier to get a grasp on what the pros and cons of the devices are. Those sections are:
Hardware
Software
Content
Value for Money
Apple TV 4
The Apple TV 4 (and 4K) offers the promise of iOS on the big screen in the form of tvOS. The standard version comes in at £149 with the 4K version starting at £179 and maxing out at £199.
What's In the Box
Apple TV
Power cord
Siri Remote
Lightning Cable
Interestingly, no HDMI cable is included. This is less of an issue for the standard model (Poundland do great HDMI cables) but the 4K model requires an HDMI 2.0 cable. Apple specifically recommend one with the "Dolby Vision" mark on the box such as the £29.95 Belkin cable.
Apparently the Amazon Basics HDMI 2.0 cables work perfectly with the Apple TV 4K and cost less than £10.
Hardware
The Apple TV 4 has the same footprint as the previous generation but is slightly taller.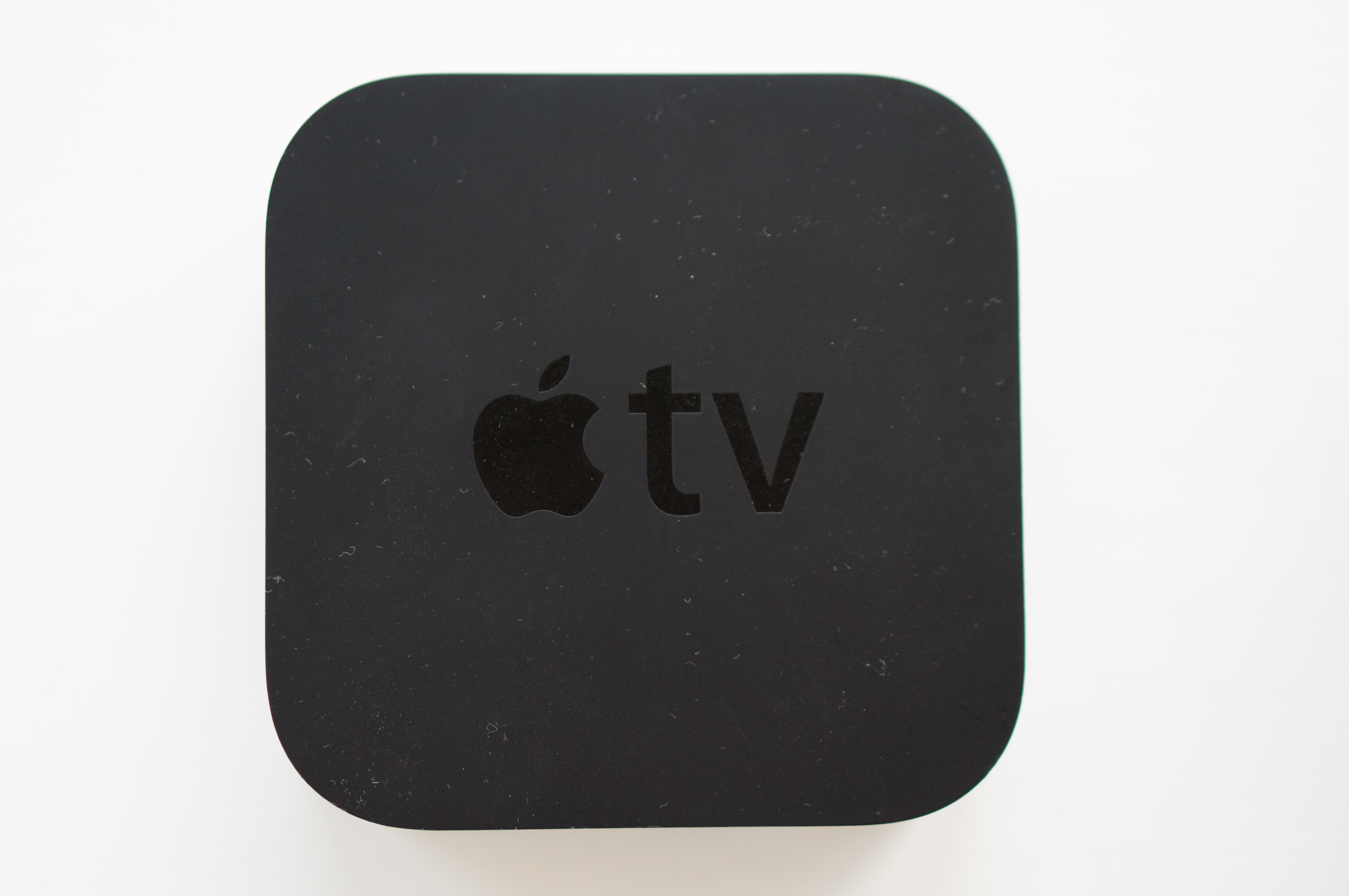 On the back is a standard IEC C7 (figure 8), HDMI, Ethernet, and USB-C ports (the USB-C is for developers only and is not on the 4K model). Curiously Apple decided to remove the optical audio out that was present on all previous models of the Apple TV.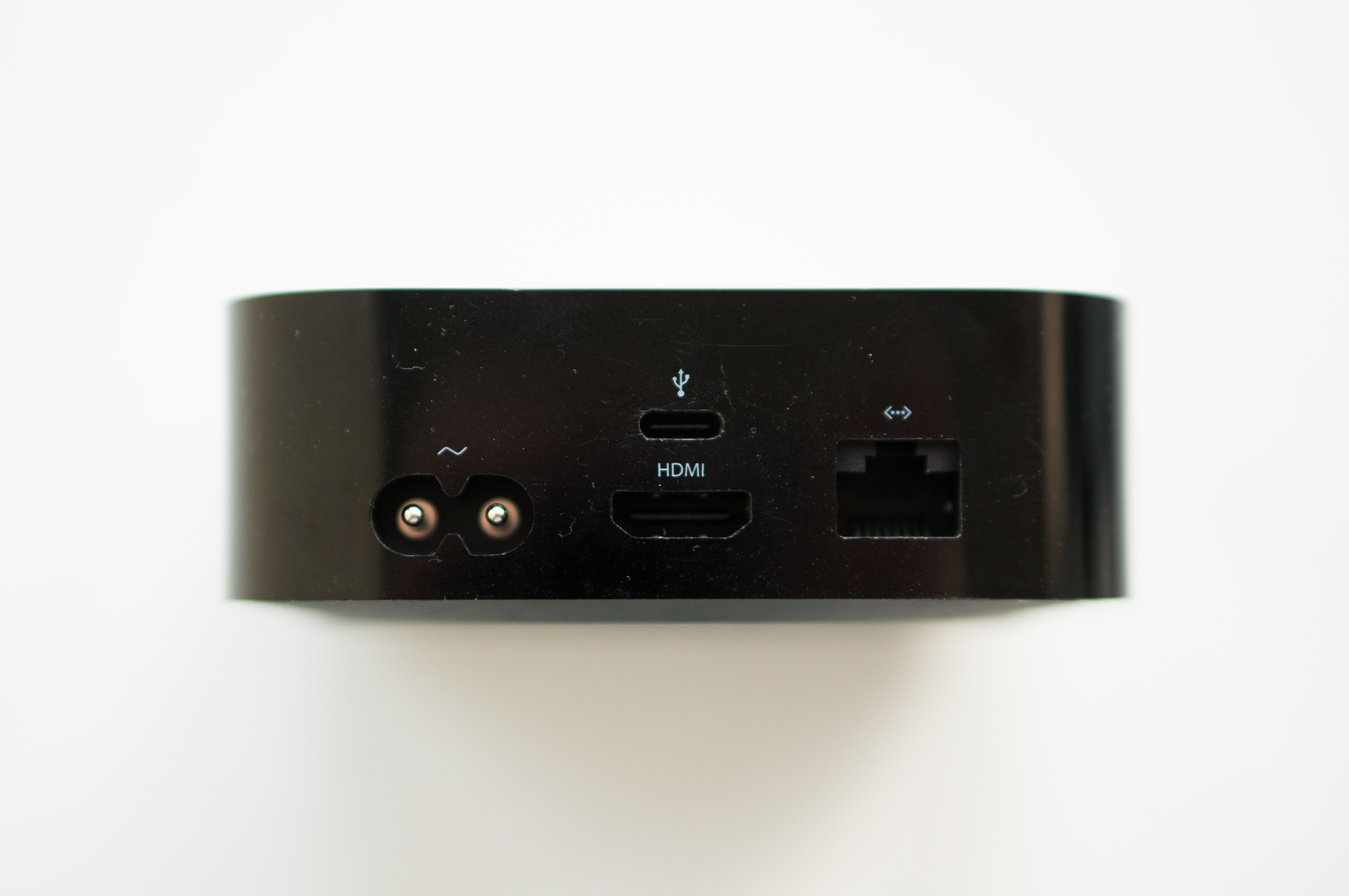 Inside the Apple TV is Apple's custom A8 dual-core chip that was previously used in the iPhone 6 as well as 2GB of RAM. This combination makes it easily the most powerful box on this list and it has no problem running apps or games.
This generation also saw a big redesign of the remote. Gone is the ring of buttons reminiscent of old iPods, replaced instead with a trackpad. Some new buttons were also added: A "Home" button in addition to the already present "Menu" button, volume buttons that use HDMI-CEC or IR to control your TV's audio, and a microphone button to activate Siri.
In addition to the redesign the remote also switched from IR to Bluetooth, added a rechargeable battery, and a gyro for basic motion games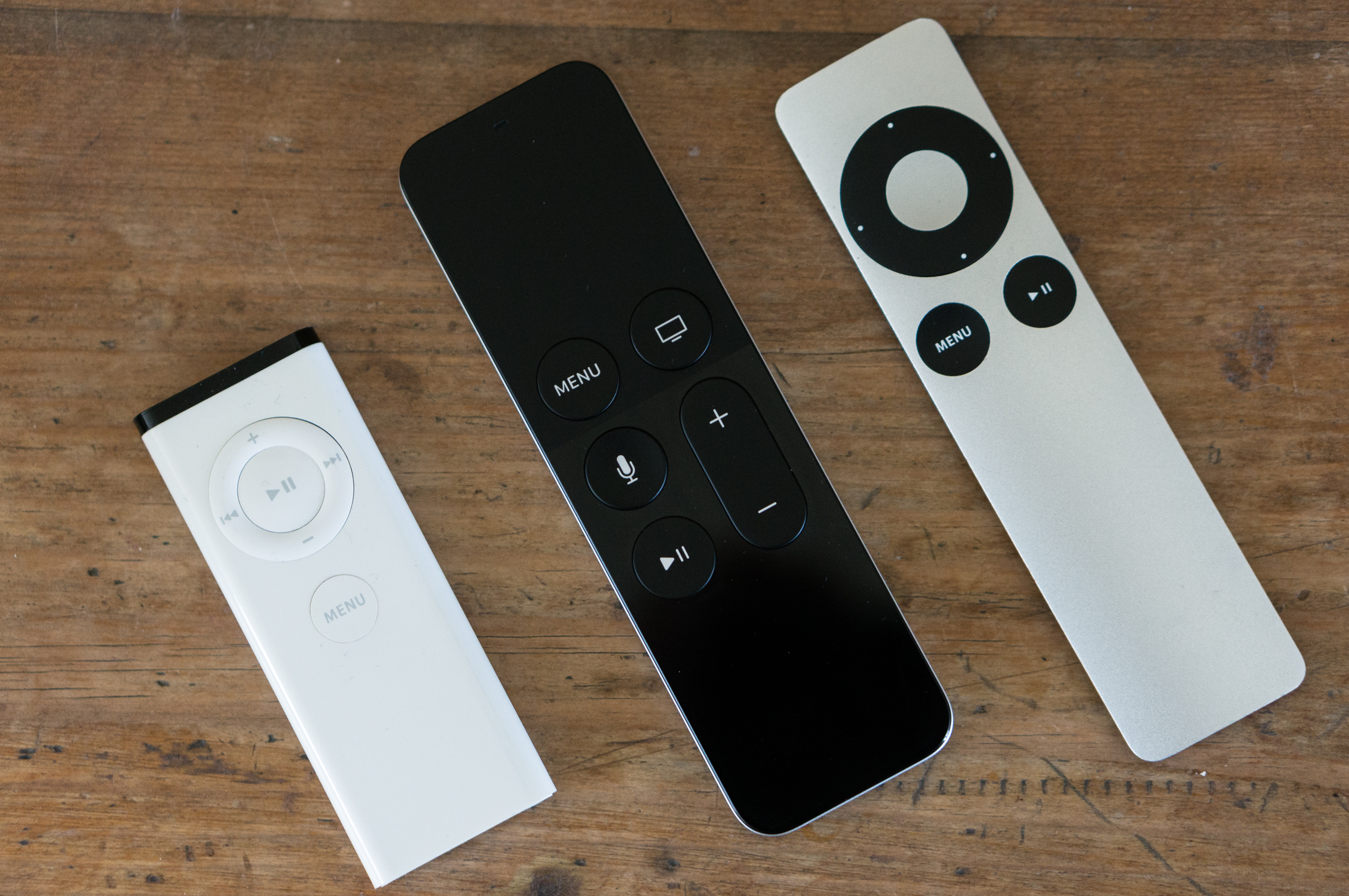 At first glance making the remote more versatile by removing buttons might seem like a smart change. This was Apple's M.O. with the iPhone after all and it worked well. Unfortunately it seems like buttons just work a hell of a lot better when controlling an interface from a distance.
I could live with the trackpad just fine and I'm sure there are plenty who prefer it. I also like the change to a rechargeable battery that lasts for 6 months at a time. My biggest irk with the remote is its shape and annoying symmetry which means that you'll pick it up the wrong way all the time. And because of that trackpad it means you'll be accidentally swiping around the UI or skipping the video you're watching.
Software
Driving the Apple TV is tvOS, a modified version of iOS for the big screen.
Apps and games can be downloaded from the App Store to populate the home screen. At the top of the grid is a sort of "dock" where you can pin your most used apps. These apps can then populate the "Top Shelf" to show recommended movies or tv shows. It's a familiar layout from both iOS and old generations of the Apple TV.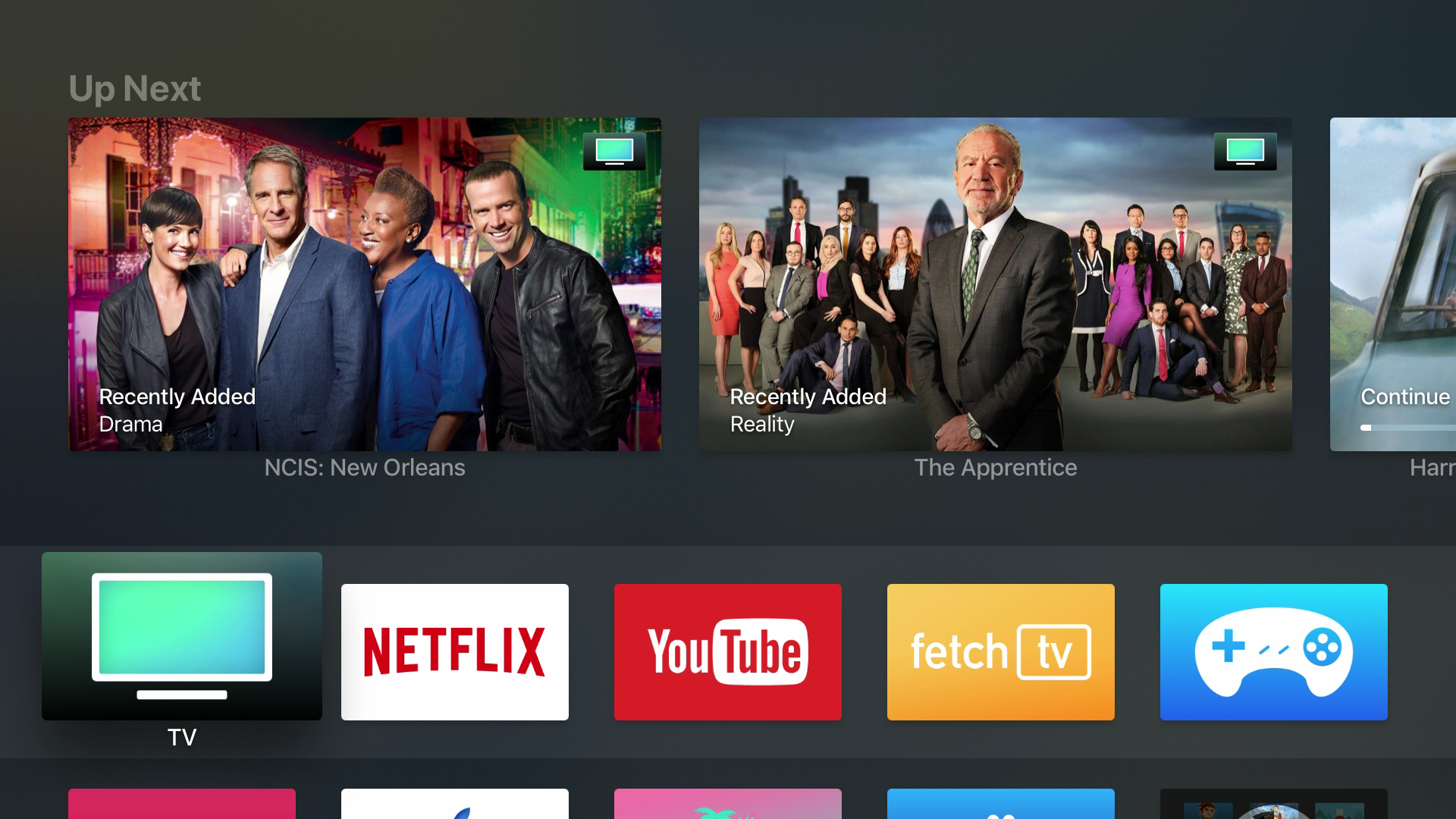 Confusingly Apple recently introduced their "TV app" that aims to integrate all of your content into one single place. It shows recommendations, an "Up Next" queue, and a universal search. When opening a video from the TV app the function of the Home button to take you back to the TV app instead of the home screen, essentially removing the need for the home screen entirely.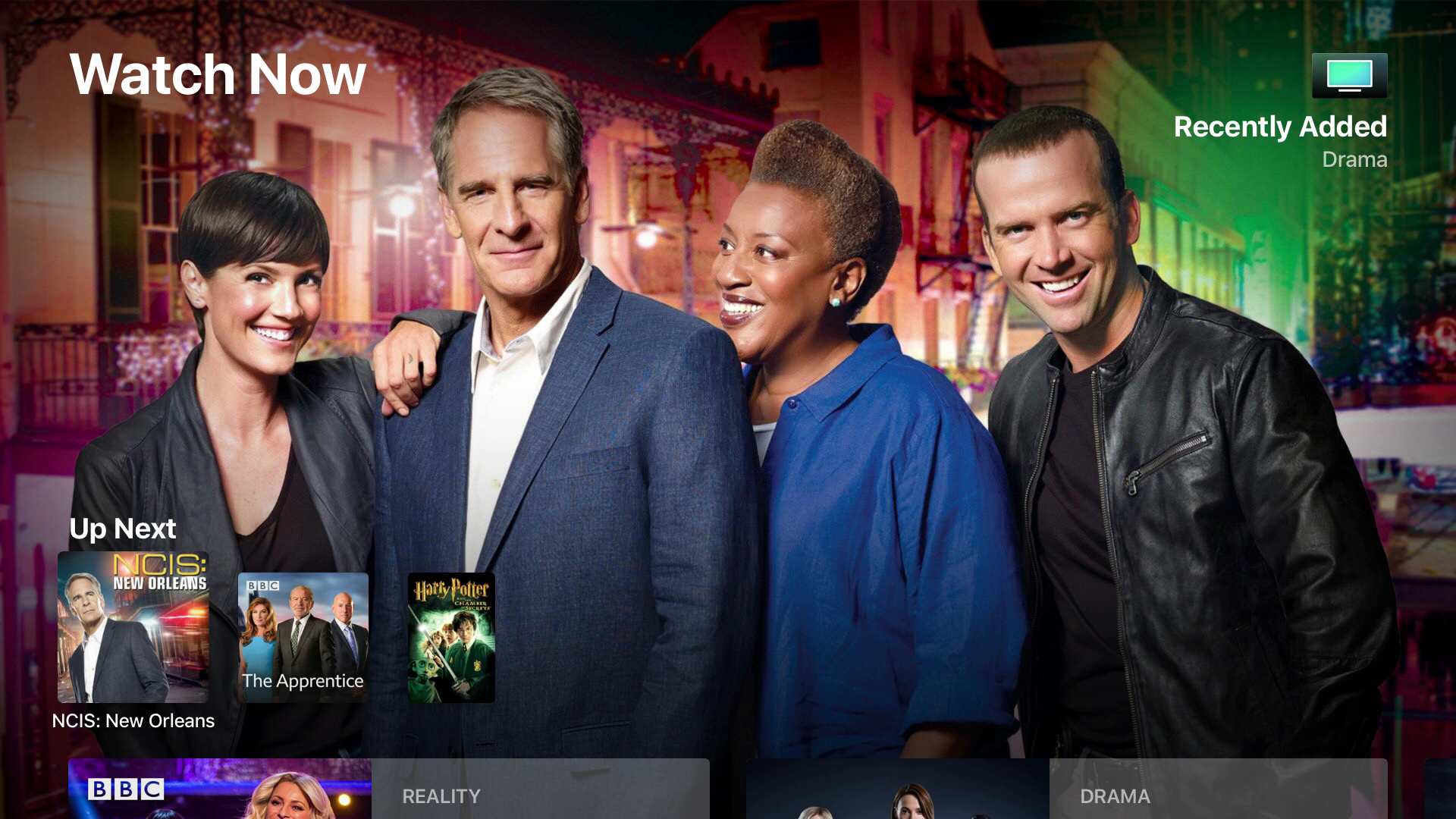 Changing the function of that home button feels messy. The user has to remember where it's going to take them, whether that's the home screen or the TV app. It feels like the home screen should be rethought as a hybrid of apps and content that would make the experience much more cohesive.
Siri is also included in tvOS and provides global voice search of iTunes, Netflix, and Amazon Prime in the UK. YouTube can also be searched if the app is installed but results are displayed in that app rather than in the slide up panel throughout the OS.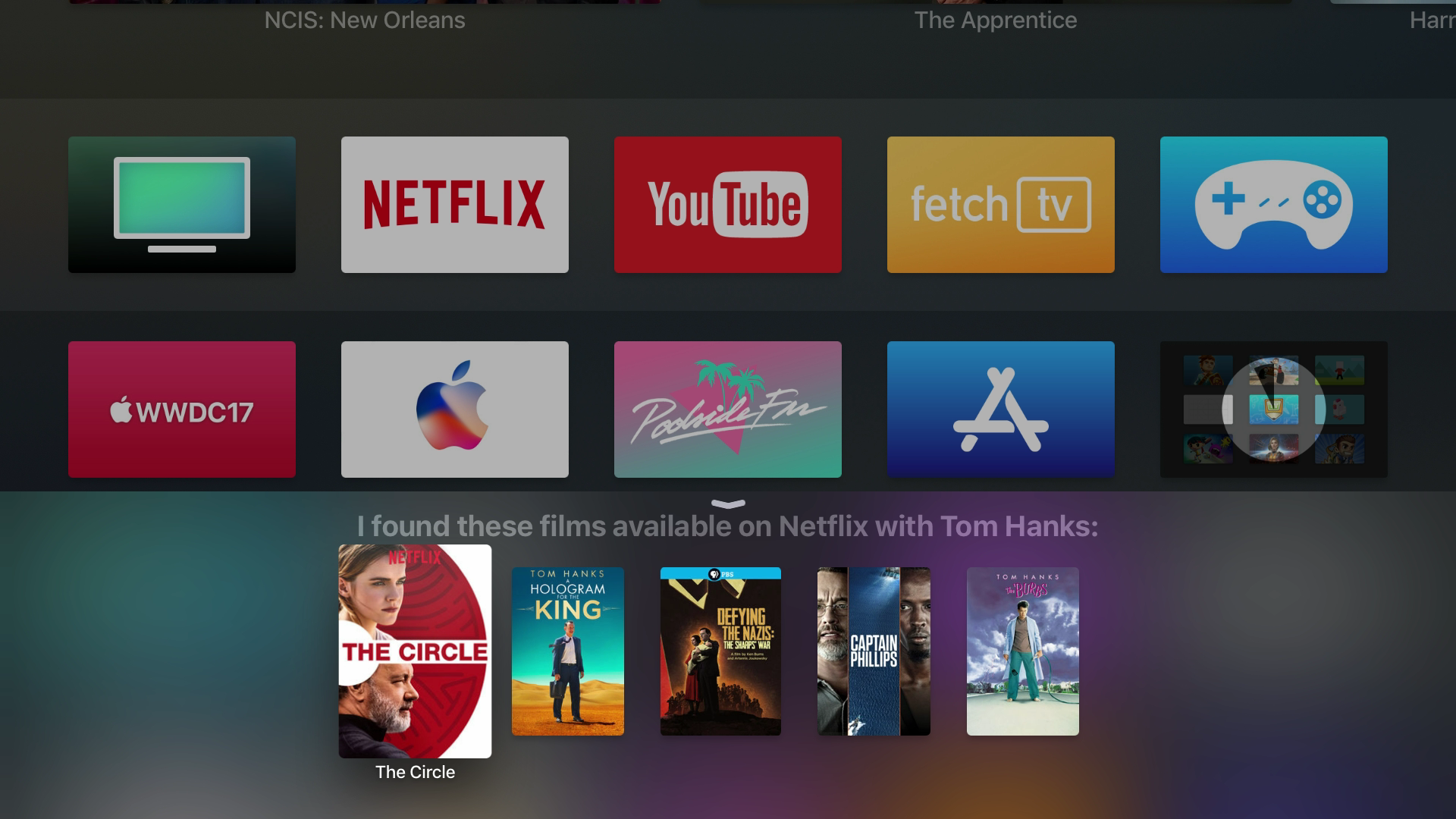 I really do like Siri on the Apple TV. It's fast and responsive, and being able to search things like "Comedies on Netflix" or "Films starring Tom Hanks" is delightful. Some other basic things like weather and HomeKit commands can be barked at it but otherwise it's pretty restricted and there's no voice feedback whatsoever.
Interestingly when I do the same "Tom Hanks Films on Netflix" search on Android TV it finds significantly more movies.
There are a few things I dislike about tvOS. The annoying sound it makes when moving around the UI, the non-qwerty keyboard, and the uninspiring UI with little personality. Overall though it's a fine OS that most will find easy to navigate.
Content
The place where the Apple TV really falls down for me is content. While the last week has given us ITV Hub, Demand 5, and Amazon Prime it's still missing Channel 4 and Spotify.
Netflix is on the Apple TV and is available for searching via Siri but is not present in the TV app. Prime Video on the other hand is an absolutely awful app written in Lua but is available in the TV app. Developers aren't themselves able to tap into the TV app or Siri search but are instead selected by Apple who presumably negotiate them into a corner. It all feels confusing and messy and not the smooth experience Apple presumably planned.
YouTube which is a massive requirement for me is also terrible on the Apple TV. It's lacking in even the most basic of things like 60fps or 4K video support (let alone HDR), and these things will never be supported until Apple implements VP9 codec on their OS. Unlike YouTube on other platforms there's also no autoplay of the next video, recommendations, cards at the end, subtitles, liking/disliking, or flagging.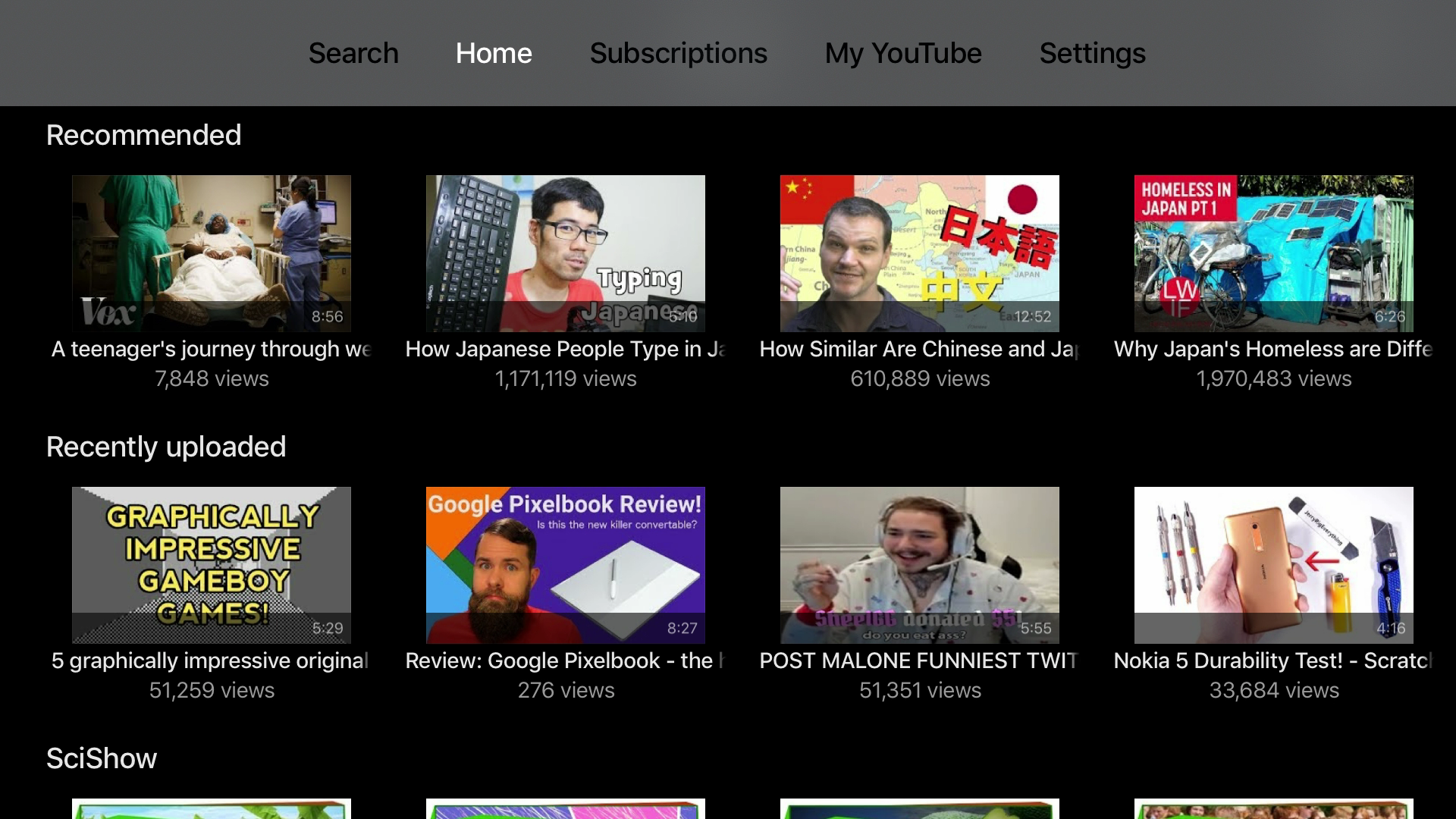 Thankfully the Apple TV does support AirPlay — Apple's protocol for displaying content from an iPhone or iPad on the TV. This gets things like Channel 4 or Spotify on your TV. I don't think AirPlay is as good as Google Cast but it does get the job done (just don't navigate around your phone while something is playing or you may end up showing something unexpected on the TV instead).
Value for Money
If you're solely in Apple's ecosystem, have a load of iTunes TV shows and movies, don't have a need for any of the missing content, and don't use YouTube, then maybe the Apple TV is for you. That being said, it's hard for me to recommend the Apple TV to most people.
The price Apple is charging for these things is insane. £149 is too much but £199 is just madness. On top of that, chuck in the Belkin cable and you're rapidly approaching half the price of a new 4K HDR TV with Android TV built in.
I think most people looking at these boxes have dumb TVs or have a "smart" TV with crap, slow, proprietary apps. Convincing someone to spend £229 on top is a big ask.
Best For: iTunes, Apple Music and Netflix
| Pros | Cons |
| --- | --- |
| Great for iTunes content | Expensive |
| Easy to setup | Lacking Spotify and other services |
| Widely available | Bad remote |
| | Terrible YouTube and Amazon experiences |
| | No HDMI cable included |
Fire TV
The Amazon Fire TV comes as either an HD Stick or a 4K "Pendant" (I'm not kidding, that's what Amazon call it). The stick is £39.99 and the pendant is £69.99.
I'll be looking at the Fire TV Stick but apart from the 4K HDR support everything between the devices is the same.
What's In the Box
Fire TV Stick
HDMI Extender
Power Adaptor
Micro USB cable
Alexa Voice Remote
2x AAA Batteries
Hardware
The Fire TV Stick looks like a large elongated USB stick. It's got an HDMI on one end and a Micro USB port on the side. Should you require or want Ethernet support then an adaptor can be purchased.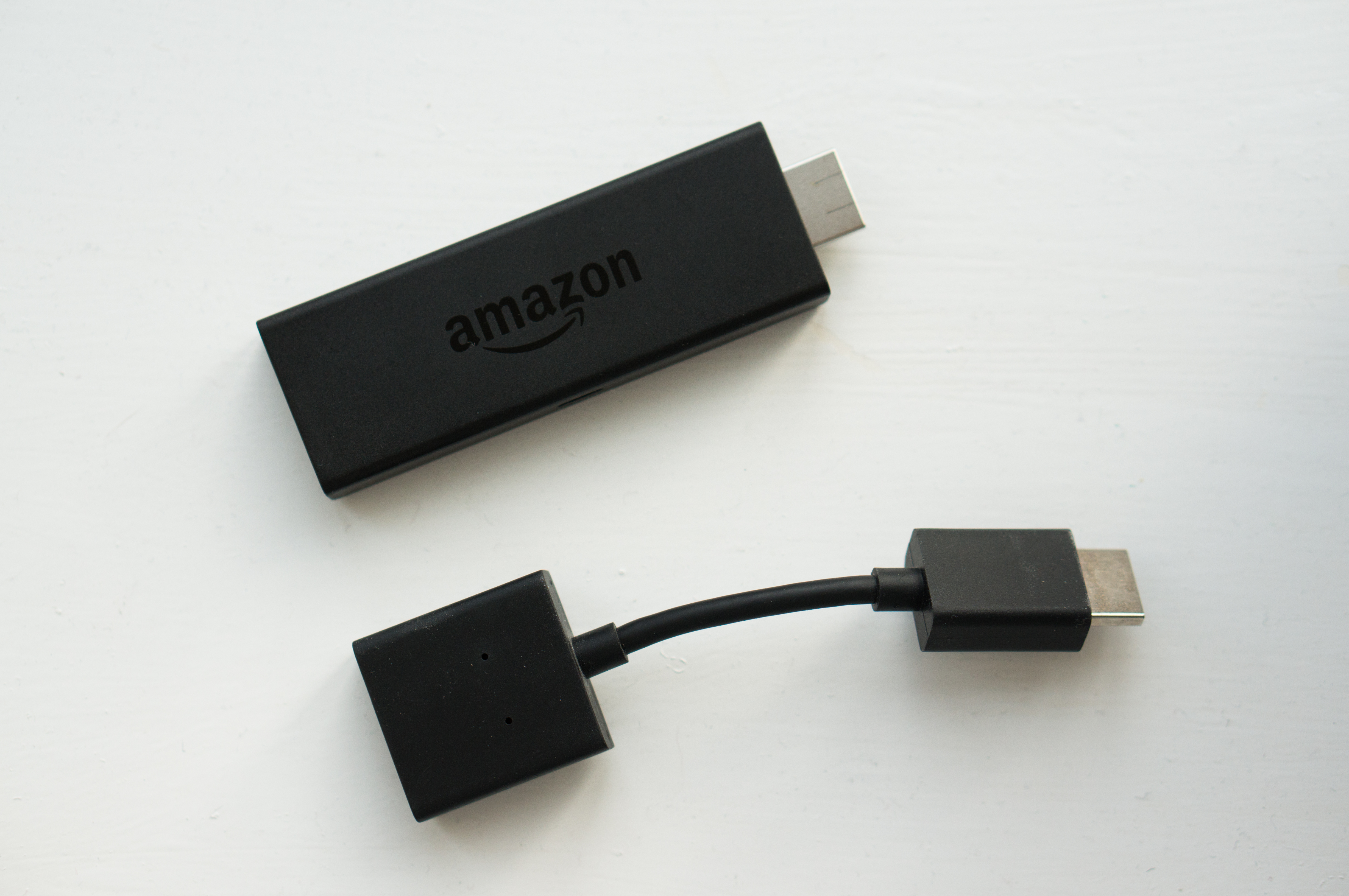 Inside the stick is a dual-core ARM CPU and 1GB of RAM. Unlike older Fire TV sticks this actually means the device gets a solid 60fps throughout the UI and doesn't feel like wading through honey.
The remote is crammed full of buttons. Below the 4-way directional pad are back, home, menu, rewind, play/pause, and fast forward buttons. Up top is a microphone button that can be used to talk to Alexa.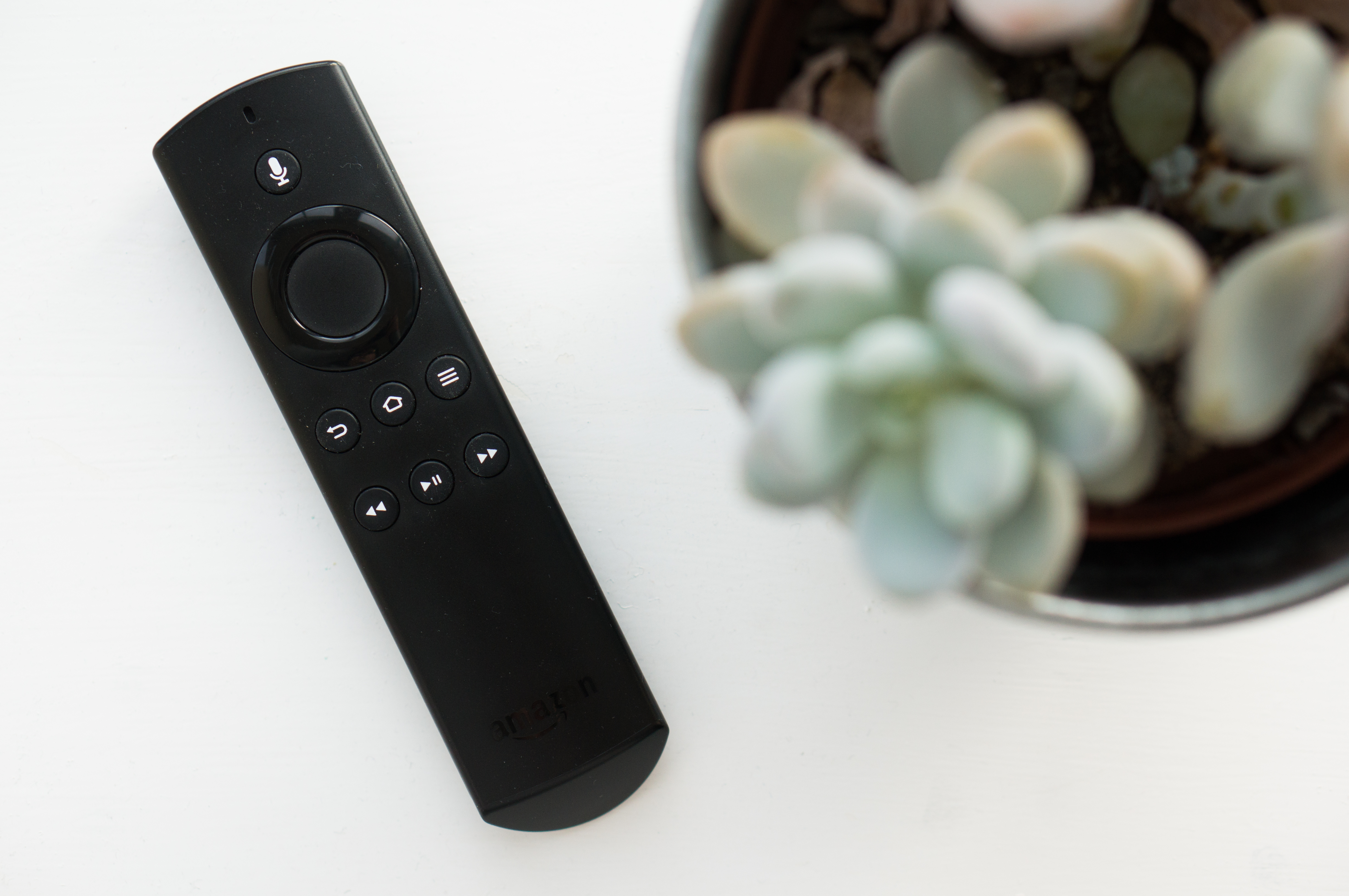 Its shape feels really great in the hand and you're unlikely to pick it up the wrong way because of it. Rather than using Bluetooth the Fire TV remote uses WiFi-Direct to connect to the stick which Amazon claims provides a better connection and increased battery life. I used the stick every day for 6 months and didn't wear out the two AAAs it requires.
Software
I think the Fire TV's software gets a bad rap because v1.0 was utterly awful. The new redesign that launched in 2017 is a vast improvement and proves to be a little more interesting than something like the Apple TV's home screen.
Apps do still play a part in the Fire TV's interface but are just a single row on the home screen rather than the whole event. Instead Amazon split content into tabs: Home, TV, Movies, Apps.
Here is where I'd like to show some screenshots of the Fire TV Stick but unfortunately it's HDCP'd up to the eyeballs and my capture card was having none of it. If you want to see the UI in action watch this great YouTube video
Home displays a mix of apps, TV shows, and Movies. Much to my surprise it doesn't just show Amazon Prime content but also things from Netflix. Amazon content isn't even tucked behind an app at all. The OS is the place to find shows and movies. It feels really nice and if Netflix and Prime are your main sources of media then you may not be jumping in and out of apps at all.
There are a couple of irks I have with the home screen though. I really don't like the top row of apps that show the most recently used first. I constantly end up in the wrong app because it's slow to update and I've clicked something just as it changes. That can be ignored though as directly below it is a list of apps that can be arranged by you. You can even hold the menu button to jump to a full list of apps or shut down the Fire TV.
However the main problem I have is Amazon opting to show ads here. It used to be less intrusive as the ad appeared right at the top of the screen and could be scrolled away but they recently chose to put it half way down the screen meaning it's always in view. These are usually ads for their shows like The Grand Tour but sometimes you get one for Papa Johns trying to get you to buy a pizza and a sodie pop. Considering you're paying not only for the device but likely also a Prime subscription it does feel a little poor to show ads as well.
One massive selling point of the Fire TV is Alexa. Unlike Siri on the Apple TV, this is the full-fat Alexa. She can play video from Prime or Netflix, play music on Spotify, radio on Tune In, or control the lights in your house. On top of that you get voice response too which is a nice bonus.
In the US you can even hook up an Echo to control your Fire TV. Shouting things like "Alexa, play American Gods on Fire TV" will start displaying the requested title. A very nice touch.
Content
Content is where Fire TV is king. It features absolutely everything I want: Netflix, Amazon Prime, all UK channels, Spotify, YouTube etc. etc.
All apps are web apps but still feel pretty snappy and responsive. Netflix and YouTube are both great experiences. YouTube is just a wrapper for their on TV interface it's totally up-to-date with the latest features like 4K video, cards at the end of videos, and liking/disliking.
Spotify is fully featured and when installed acts as a Spotify Connect device meaning you can use your phone or computer as a controller and cast content to the TV.
There's also limited support in apps for casting to the TV using Amazon's Fling. It's clearly a reaction to Google Cast and works in apps like YouTube or Netflix.
The problem for me came recently when I got a notice on my TV informing me that YouTube support would be cut off on the 1st January 2018.
Google and Amazon are having an argument and that means consumers face issues like this. It's a really crap situation and means the Fire TV is no longer a viable option for me.
Value for Money
If YouTube doesn't matter for you then the Fire TV Stick is incredible value for money at £39.99. It provides instant access to almost everything you could possibly want, is easy to navigate around, and with Alexa built in you get a great voice assistant too.
I got mine for £24.99 in the Prime Day sale and it's often on offer so keep an eye out for a deal if you're interested in one. If 4K HDR is important then you can always grab its big brother for £69.99.
Best For: Amazon Prime, Netflix, and Spotify
| Pros | Cons |
| --- | --- |
| Inexpensive | Losing YouTube support |
| Nice interface | Ads on the home screen |
| Good array of content | |
Xiaomi Mi Box (Android TV)
Not one to be outdone by Apple, Google launched Android TV; their third attempt to take over the living room in recent memory. It can be found in a number of TVs from Sony and Philips but there's also a couple of boxes you can buy such as the Nvidia Shield or the Xiaomi Mi Box.
I opted for the Mi Box as it was over £100 cheaper to purchase in the UK at £69 and the game features of the Shield weren't something I was interested in. It's not something that's for sale in the UK normally so I had to buy an imported version from a place called The Solution Shop. US folk can pick one up from Walmart for $69.
If you're looking to buy one make sure you get an international version running Android TV as the variants for the Chinese market run Xiaomi's own interface.
What's in the Box
Mi Box
Remote
Power adaptor (barrel plug style)
HDMI 2.0a cable
No AAA batteries were provided for the remote.
Hardware
The Mi Box is a lovely little thing. It reminds me of a smooth pebble and sits discreetly under a TV with just a small light on the front to indicate that it's powered on.
On the back are power, HDMI, USB, and audio out ports. The USB port can be used to read data from a hard drive or thumb drive to play video or side-load other apps onto the device.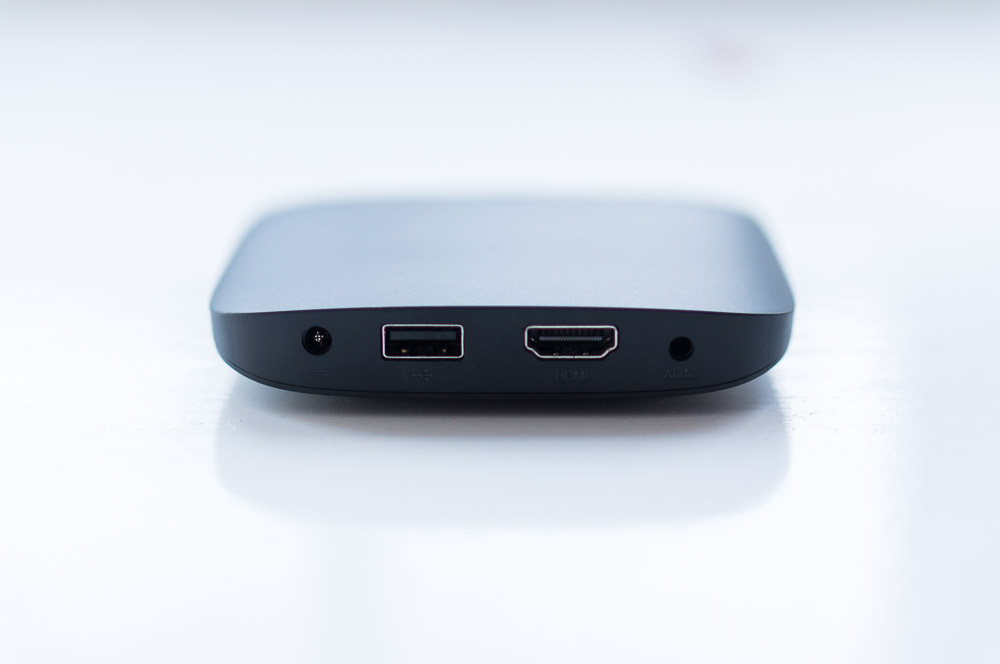 The remote is very similar to the Fire TV remote and has a similar shape and feel in the hand. Up top is a power button that can sleep/wake the unit. Below that is a familiar circular d-pad, back, home, and microphone buttons.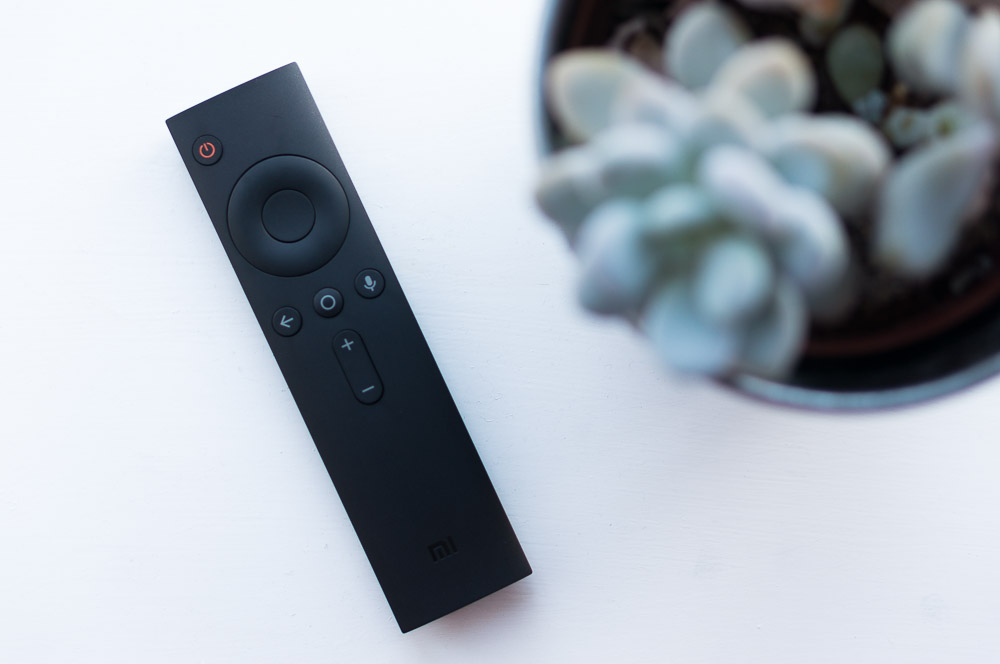 The lack of media controls that are present on other remotes does force you to click twice to pause a video but that's a minor annoyance and another Bluetooth remote can be paired if that's a deal breaker for you.
It does have volume controls but they don't use HDMI-CEC or IR to control your TV volume but instead controls a secondary volume level on Android. It works fine for me but the Apple TV's functionality is definitely a little nicer.
Software
Android TV is an absolute delight to use. It's easily my favourite interface of those I've tried. The UI is handsome that feels easy to use and totally natural.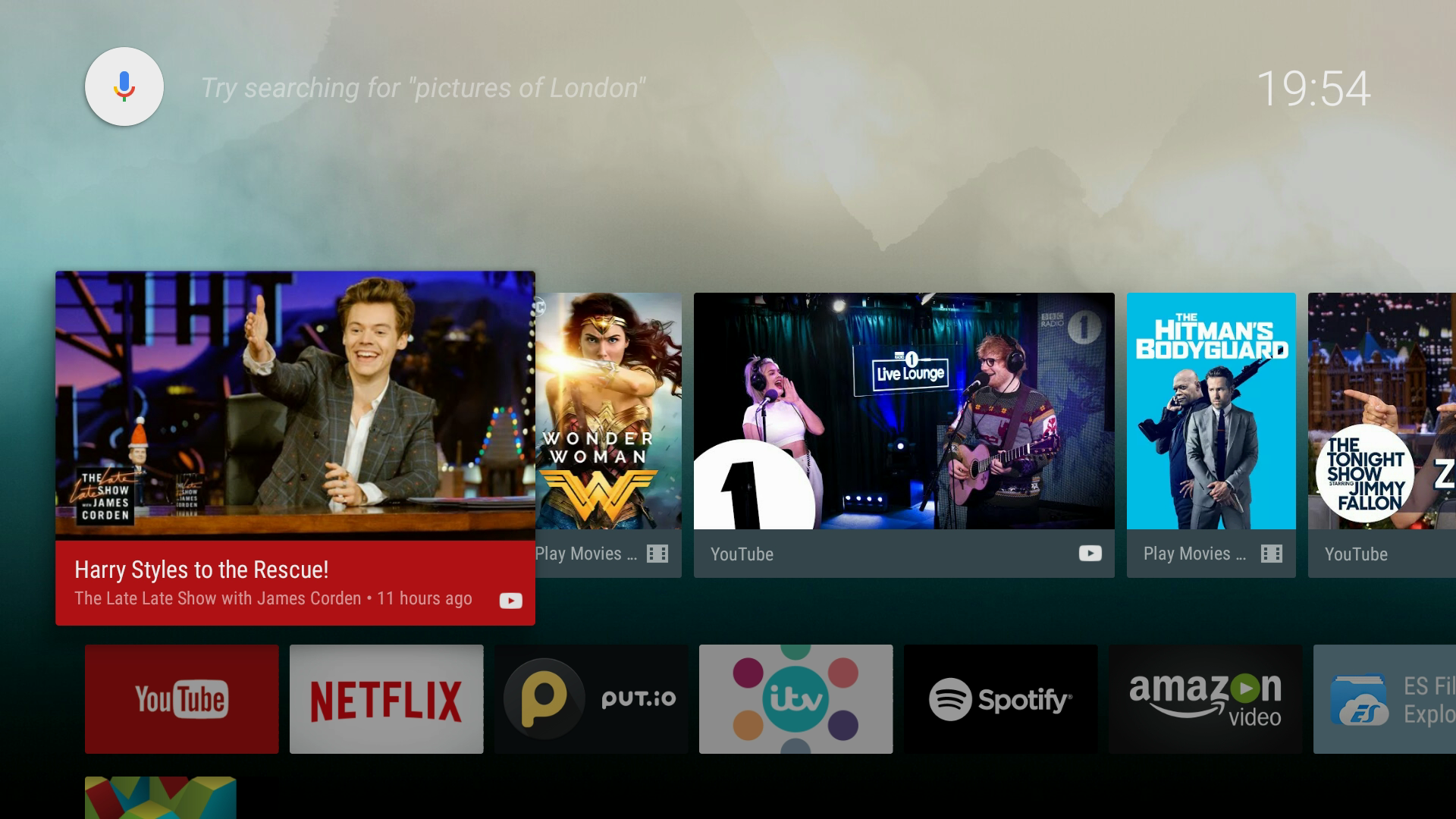 Apps are again the core of Android TV and have the ability to fill in a unified recommendations carousel at the top. YouTube usually fills it with awful trending videos but Spotify and Google Play have put some useful stuff in there.
Below that is an apps carousel that can either be arranged by you or placed in order of recently used on the left. As you install more and more apps this eventually turns into a multi-line carousel.
Android O brings channels that give each app their own carousel of content but as it's not yet available on the Mi Box I'm unable to really comment other than telling you I really like the idea. It feels like what Amazon have tried to do with Fire OS but isn't split across screens and give every app equal footing.
Apps themselves are downloaded from the Google Play Store. Not everything from the Play Store on your phone is here as not everything has a TV interface. Apps that aren't present can actually be side-loaded via that USB port on the back which made me feel a sense of freedom I didn't get on any of the other boxes.
Animations throughout the OS like the circular masks that reveal an app when it's opened to the animation that shows when you're using voice search are wonderful. It gives it a level of personality and whimsy that's missing from the other platforms.
Talking of voice search, Android TV's is second to none. Every app can interface with the voice search through an API so holding down the button and searching for "Stranger Things" shows where you can watch it, information about the show such as cast, videos about it on YouTube, and music in Spotify.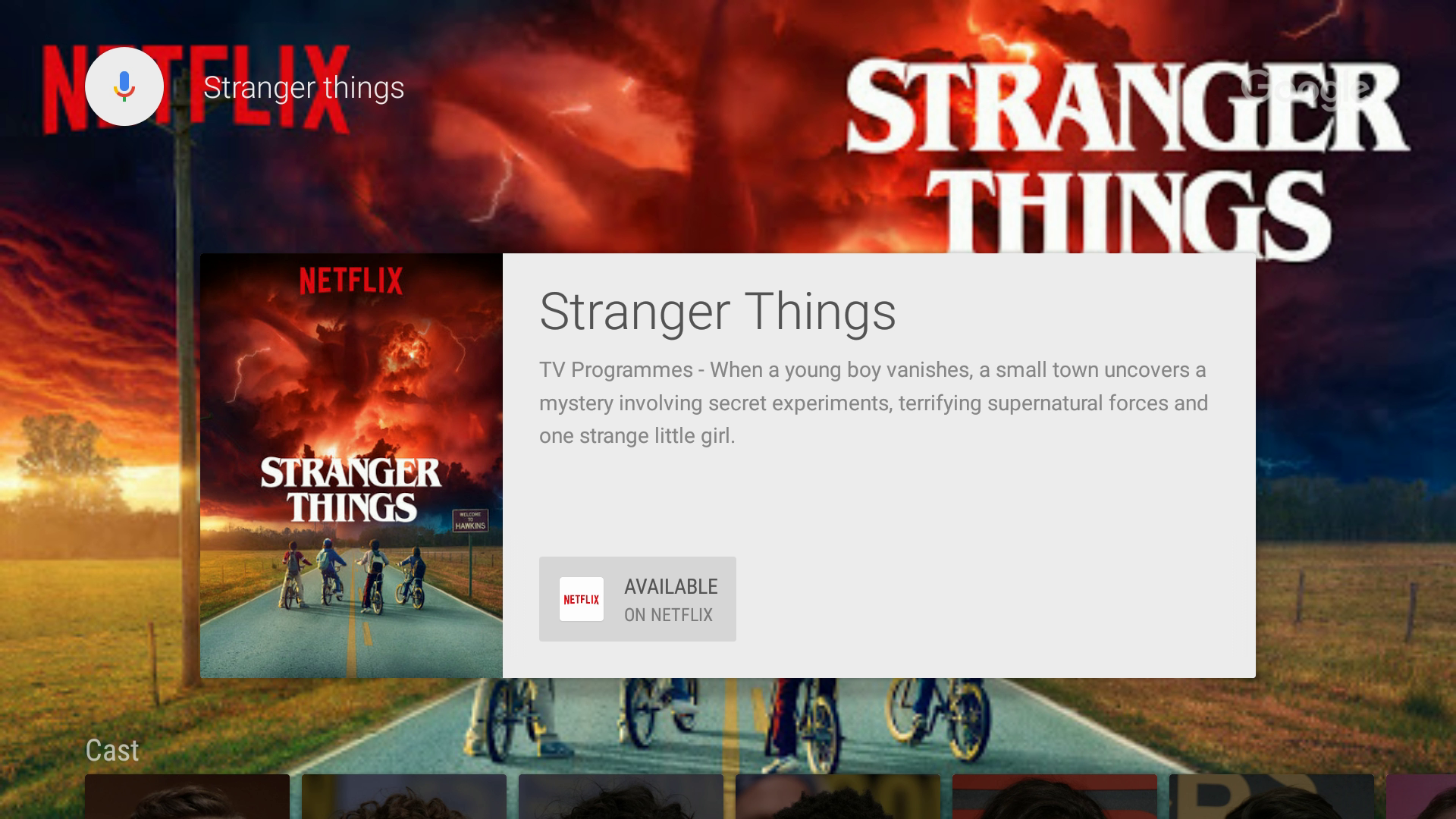 Pressing the microphone button once in an app will bring up that app's search but pressing and holding will launch the global, universal search. Like Alexa and Siri, that search can also perform other actions like telling you about the weather or giving you sports scores and does so with the standard Google voice response.
The only minor issue I have with the OS is that some apps close as soon as you click back to the home screen unless playing a video which can cause you to use your place when scrolling.
Content
While Android TV doesn't fulfil all my content needs like the Fire TV once did, it still gets pretty close. Directly from the Play Store I was able to download Netflix, ITV Hub, and Spotify (which acts like Spotify Connect the same as Fire TV).
Prime and iPlayer are for some reason only available on the Nvidia Shield or Bravia TVs in the UK but I was able to side-load the APK for Prime very easily (though the app is the same terrible one from the Apple TV). I did find an APK for Channel 4 but that didn't work so I've resigned to Casting it from my phone.
And yes, Google Cast is built right in. It works exactly the same as Chromecast, supports 4K and HDR, and all for the same price as the Chromecast Ultra.
As a bonus you can connect a Google Home to control your Android TV like you can with an Echo and Fire TV. I haven't had a chance to test this but you can request it to play content from YouTube, Netflix and other services as well as request it to pause or skip.
YouTube is absolutely fantastic on the Mi Box. Well, it was before they "updated" the YouTube app to the same web version used on the Fire TV. That version is still great and has everything you would expect but it doesn't quite feel native to the platform.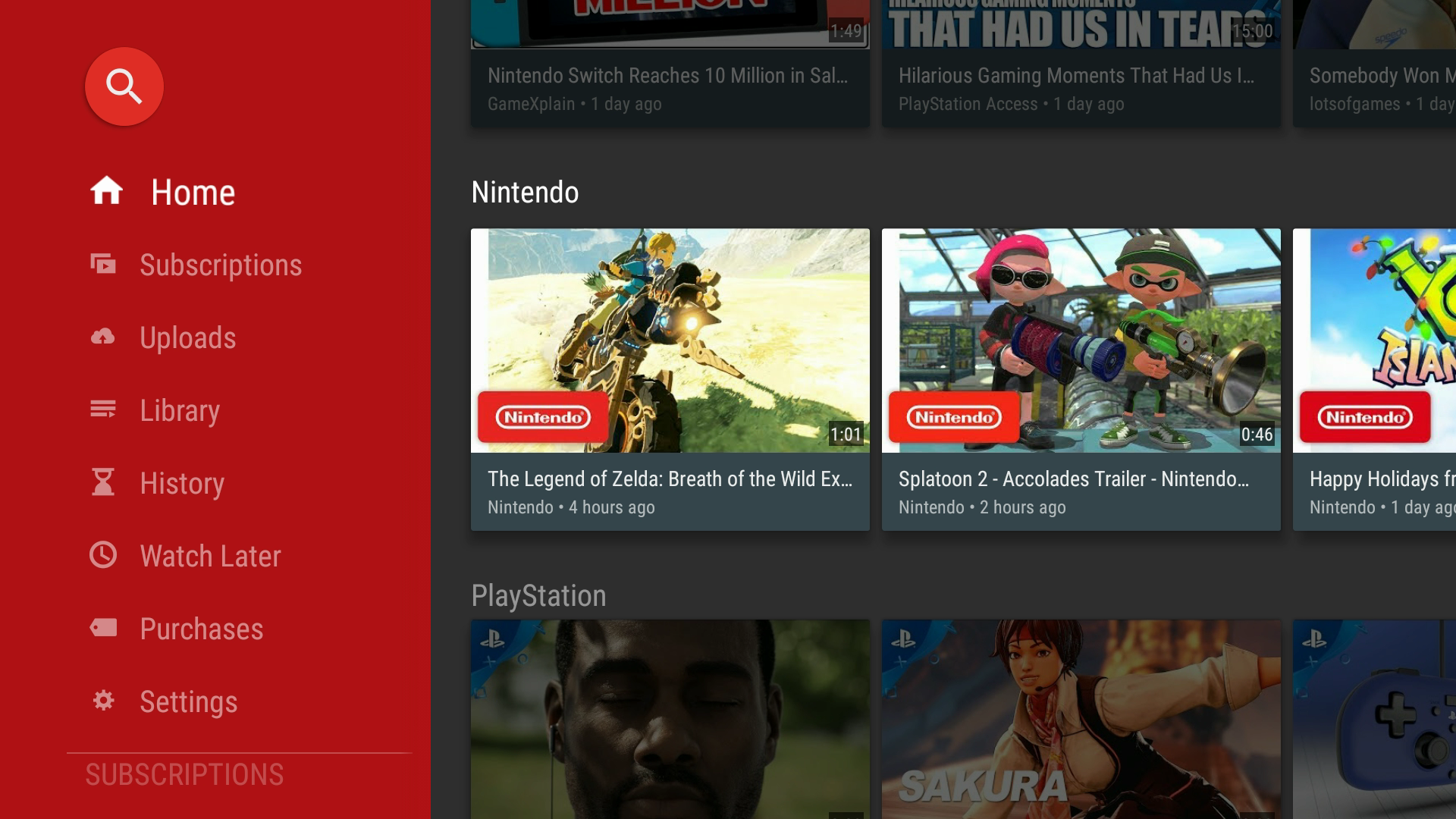 Thankfully Android lets you uninstall updates to system apps so I reverted back to the previous version that feels much more fluid. It doesn't feature end of video cards or support HDR videos like the updated version but it's otherwise a superior experience.
Value for Money
The Mi Box feels like incredible value for money if you're happy to deal with importing and a little side-loading due to international restrictions. At £69 it's the same price as the Fire TV 4K and over £100 cheaper than the Apple TV while providing the same 4K HDR video on Netflix and YouTube.
It provides the very best YouTube experience on your TV, has a Chromecast built in, and has the best voice search I've tried.
Best for: YouTube, Netflix, Spotify, Google Play content, Android users
| Pros | Cons |
| --- | --- |
| Great value for money | Hard to find in the UK |
| Nice interface | Can be confused with Chinese models |
| Awesome YouTube experience | Not a standard power adaptor |
Chromecast
The Chromecast is the oddball on this list which is why I've left it until last. It doesn't come with a remote or much of an interface at all and requires a mobile device to send content to your TV.
Like the Fire TV 4K it's a little pendant that dangles from the back of your TV. The standard model offers 1080p playback and is £30 whereas the 4K HDR Chromecast Ultra is £69.
What's in the Box
Chromecast
Power adaptor
Micro USB cable
Hardware
The new Chromecast is a small round disc that dangles from the back of your TV. My model is the older variant that looks more like a USB stick. It's powered by a micro USB cable in the same way as the Fire Stick which is far nicer than a proprietary power connector.
There's no remote with the Chromecast as everything is sent to the TV from a phone, tablet, or Chrome tab on a computer. Connection is via WiFi but an ethernet adaptor is available much like the Fire TV.
Software
There's not really a lot to say about software on the device itself. The Chromecast just displays a single screen that cycles through pleasant pictures awaiting content from a phone.
Setup of the device is done via the Google Home app on an iOS or Android device. From there you can set the name of the Chromecast, WiFi settings, or opt to require a PIN to connect.
Content
There's certainly no lack of content that can be cast to a Chromecast. Everything you'd expect works: YouTube, Netflix, Amazon Prime Video, Now TV, Spotify, iPlayer etc.
Casting content is very easy. Look for the screen with the WiFi lines coming out of the corner and tap the Chromecast you want to connect to. It should instantly start playing on your screen.
However this highlights my main problem with the Chromecast. Everything has to be controlled via the app you've cast from and every app chooses to show the controls in a different way. It's my understanding that on Android a control for the Chromecast appears in the notification shade but if you're on iOS there's no such luck.
As it's a Chromecast you get the same Google Home integration you get with Android TV. "Ok Google, play Orange is the New Black on Chromecast" will have the show pop up on the big screen.
Value for Money
If all you want is a super simple way to get your stuff on the TV then the £30 Chromecast is a good option. It's the cheapest device I've tested and if you're fine using your phone as a remote then it's probably for you.
Having said that, if 4K and HDR are requirements for you then I have a hard time recommending the Chromecast Ultra considering the Mi Box is the same £69 and also offers the same cast functionality.
Best for: Large range of content, cheap and quick option
| Pros | Cons |
| --- | --- |
| Great value for money | No remote or interface not for everyone |
| Large range of supported apps | Could be better on iOS |
| Plug and play | |
---
Table of Content
To get a good overview of what's available on these devices I've put together the following table. If you find anything else you want to add to this list, please let me know.
| | Apple TV | Fire TV | Android TV | Chromecast |
| --- | --- | --- | --- | --- |
| All4 | AirPlay | ✅ | ✅* | ✅ |
| Apple Music | ✅ | - | - | - |
| Google Play Movies | - | - | ✅ | ✅ |
| iPlayer | ✅ | ✅ | ✅* | ✅ |
| iTunes | ✅ | - | - | - |
| ITV | ✅ | ✅ | ✅ | ✅ |
| Kodi | - | Side-loaded | ✅ | - |
| My5 | ✅ | ✅ | ✅* | ✅ |
| Netflix | ✅ | ✅ | ✅ | ✅ |
| Now TV | ✅ | - | - | ✅ |
| Plex | ✅ | ✅ | ✅ | - |
| Prime Video | ✅ | ✅ | ✅* | ✅ |
| Sky News | ✅ | ✅ | ✅ | ✅ |
| Spotify | AirPlay | ✅ | ✅ | ✅ |
| YouTube | ✅ | - | ✅ | ✅ |
*Pre-loaded on some devices but may require side-loading or casting to others.
---
Wrapping Up
Which device works for you depends entirely on what you need. If you have a large iTunes library then you're likely locked into using the Apple TV. If you want the best Amazon Prime Video experience then the Fire TV is the best option for you. Chromecast works if you want something cheap that works reliably.
You might decide that none of these boxes or sticks are for you and that's fine. Other options like the Roku, Now TV box, or something like a Raspberry Pi running Kodi or Plex might be more suitable. I think for many people even the apps that come on most smart TVs will suffice these days. Let me know if you think I've missed anything that wipes the floor with the options I've tried in the comments.
It still seems like there's no perfect box with everything for everyone but I think I've decided that Android TV and the Mi Box work best for me. It provides the lion's share of content I want, a great interface with awesome universal voice search, and the best YouTube experience you can get on a TV.