Great Homemade Pan Pizza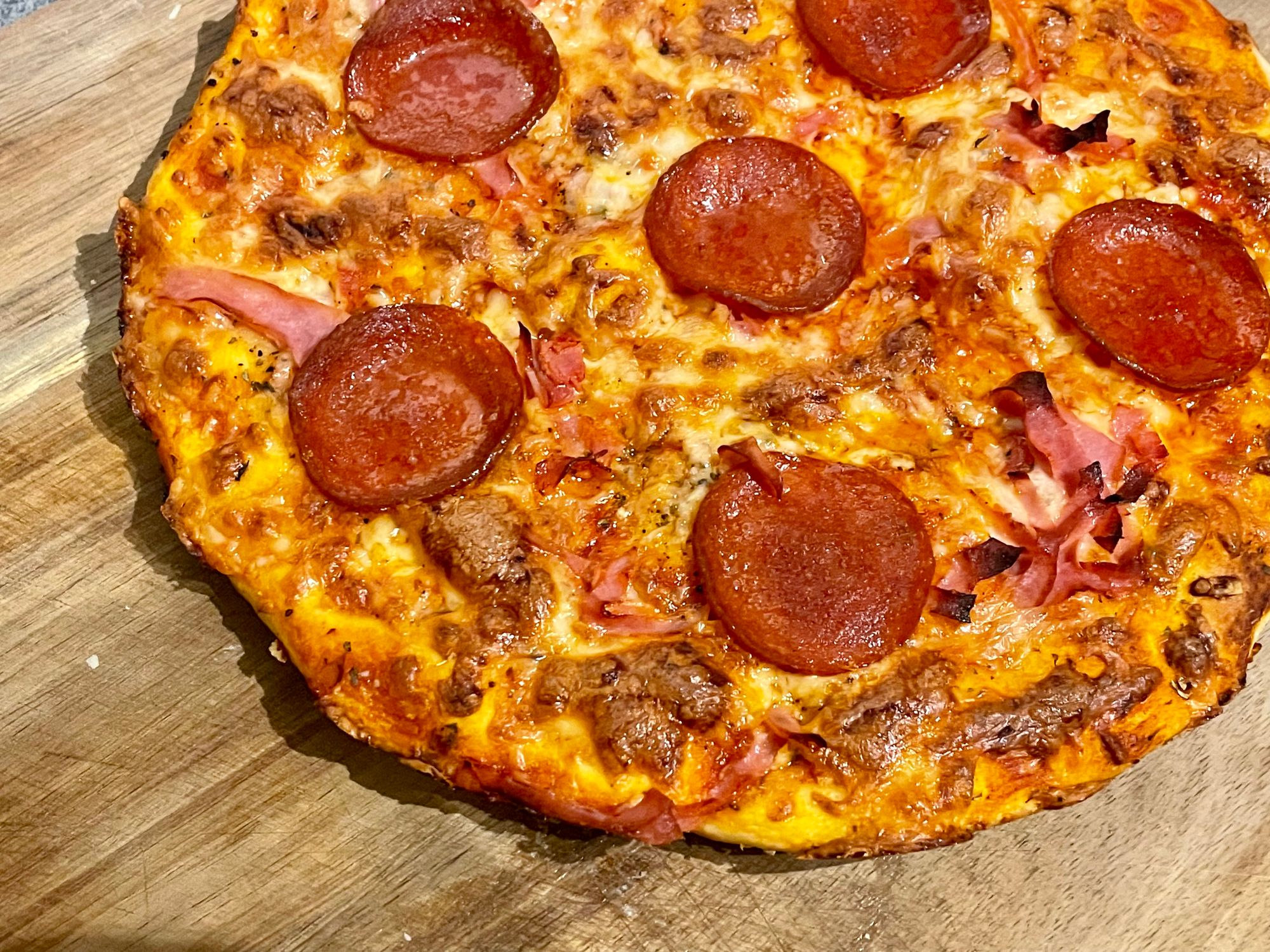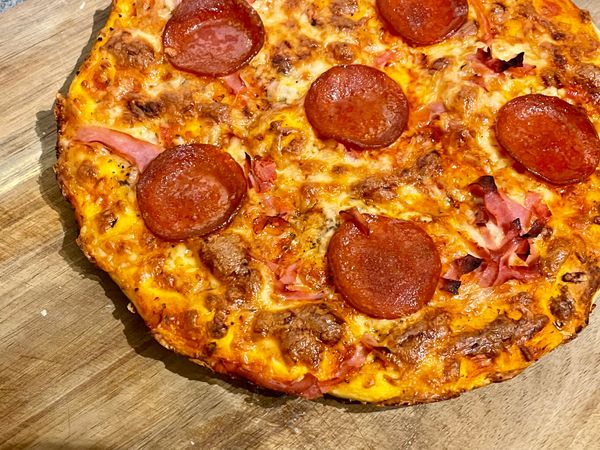 Rather unexpectedly, 2021 turned out to be the year I got into pizza in a big way. I built a pizza oven in my back garden for £35 and after several pizza nights nailed down a dough recipe that works perfectly in a pizza oven. But it's winter in the UK now and last night I was craving a pizza. I couldn't really use my pizza oven and the problem with conventional kitchen ovens is they just don't get hot enough (and yes, I've tried pizza stones) to produce great results.
Of course, there are countless variations on the classic pizza and with the hope of keeping my pizza cravings at bay, I wanted to try my hand at making a pan pizza.
It turns out it's easy as pie to get good results.
🥘 Equipment
If it wasn't obvious from the name, pan pizza is called that because it's baked in a pan. If you have an overproof pan then that's really all you need! No fancy peels or pizza stones required here.
I'd recommend a 26-28cm non-stick aluminium pan (10-12"). It'll take less time to heat than cast iron which should theoretically mean a quicker cooking time giving the cheese less of a chance to split.
I use an old Tefal Ingenio pan which is perfect as it has a removable handle but anything oven proof would be fine. Alternatievely you could use a 26cm (10") cake tin which you may already have if you've ever baked a Victoria Sponge.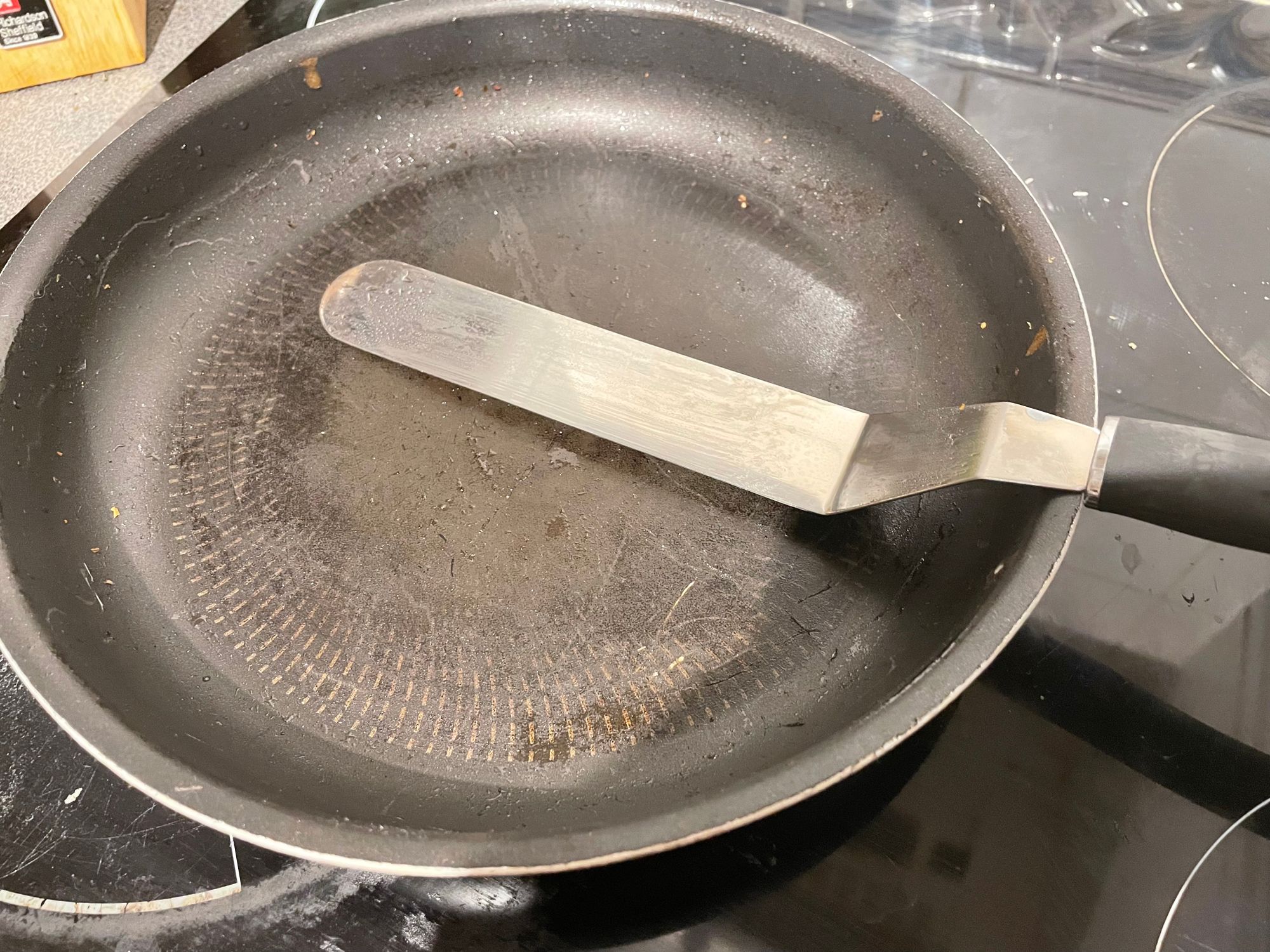 Getting it out of the pan can be a bit tricky at times as the cheese loves to bake on the edges (but trust me, that's the best bit). I've found a large angled spatula/palette knife is the best thing to get it out.
⏲ Recipe
This recipe was all about getting a decent pizza and fast which is why there's a relatively high amount of yeast in it. Of course if you're going for an overnight proof then bring that down a little.
This recipe will make two 10-12" pizzas in no time and I really think the results beat out the Dominos and Pizza Huts of the world. If you know you want pizza, quickly whip up this dough earlier in the day or the day before (it will refrigerate or freeze just fine) and you'll be baking pizza in no time at all.
Ingredients
For the dough:
400g bread flour
7g instant yeast (1 sachet)
10g sugar
10g salt
25g olive oil
280g water
For the topping:
Low-moisture mozzarella – commonly called "pizza mozzarella" in the UK
Parmesan or Pecarino (it's optional but really good)
Passata or a pizza sauce
Whatever toppings you'd like
Method
Add all the ingredients for your dough into a mixing bowl.
If using a stand mixer, attach the dough hook and bring it together before turning up the speed and kneading it for 5-10 minutes.
If you don't have a stand mixer, bring everything together in your bowl and then pour your dough out onto a clean surface and knead by hand for at least 10 minutes. Do not use any additional flour on your surface but grease your hands and the surface with a little olive oil if you need it.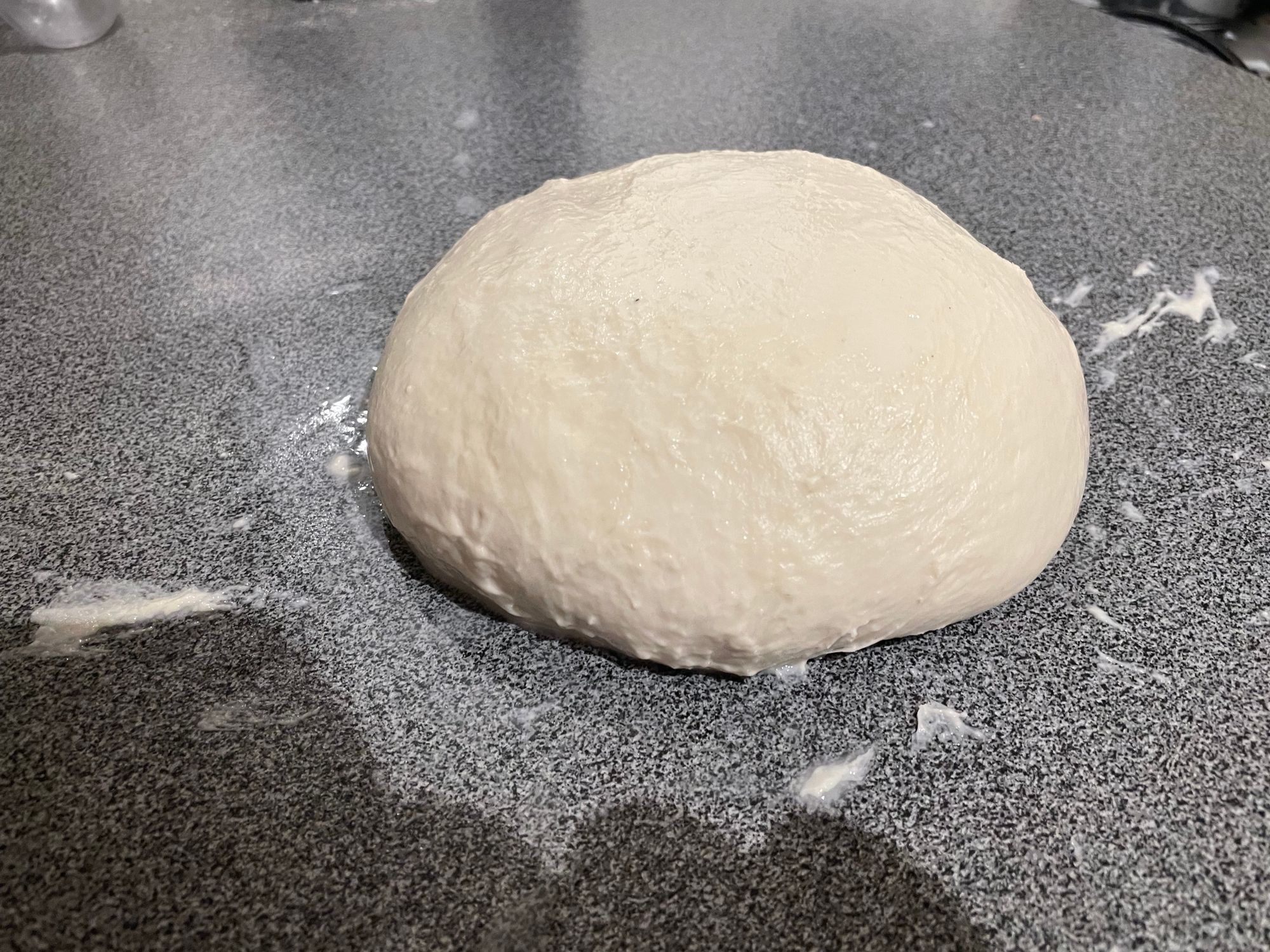 Bring your dough to a ball and proof for 60-90 minutes until it has doubled in size.
Once proofed, split the dough into two even pieces of around 360g each. Ball these up and leave to rest covered for 30-45 minutes.
Preheat your oven to 230°c fan.
Now it's time to construct your pizza!
Oil your pan and transfer your dough to it. Stretch it out to the edges of the pan. If it doesn't want to go, cover the pan and leave the dough to relax until it does.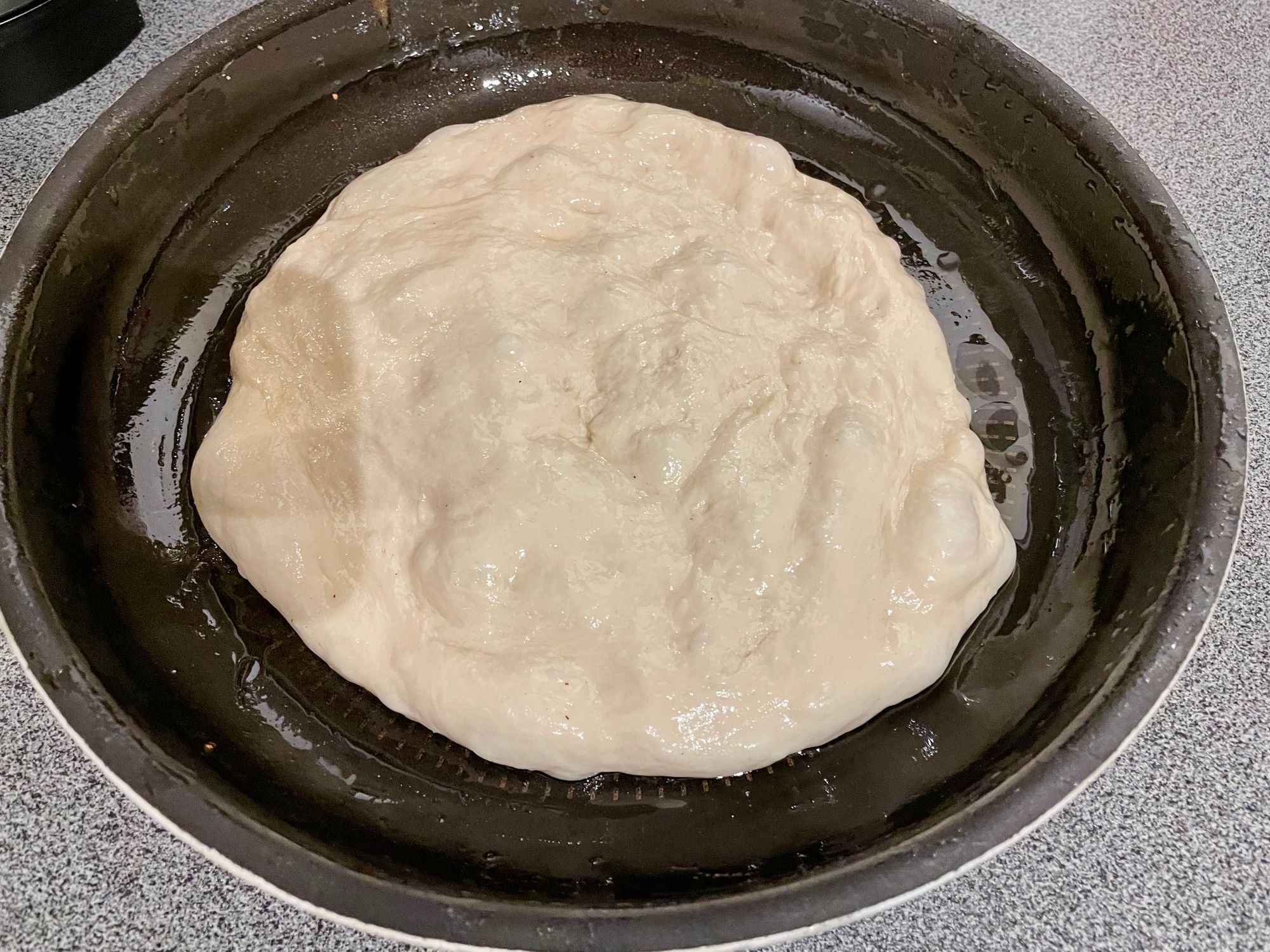 Add your pizza sauce (you'll always want less than you think) and sprinkle over your Parmesan or Pecarino if you're using it.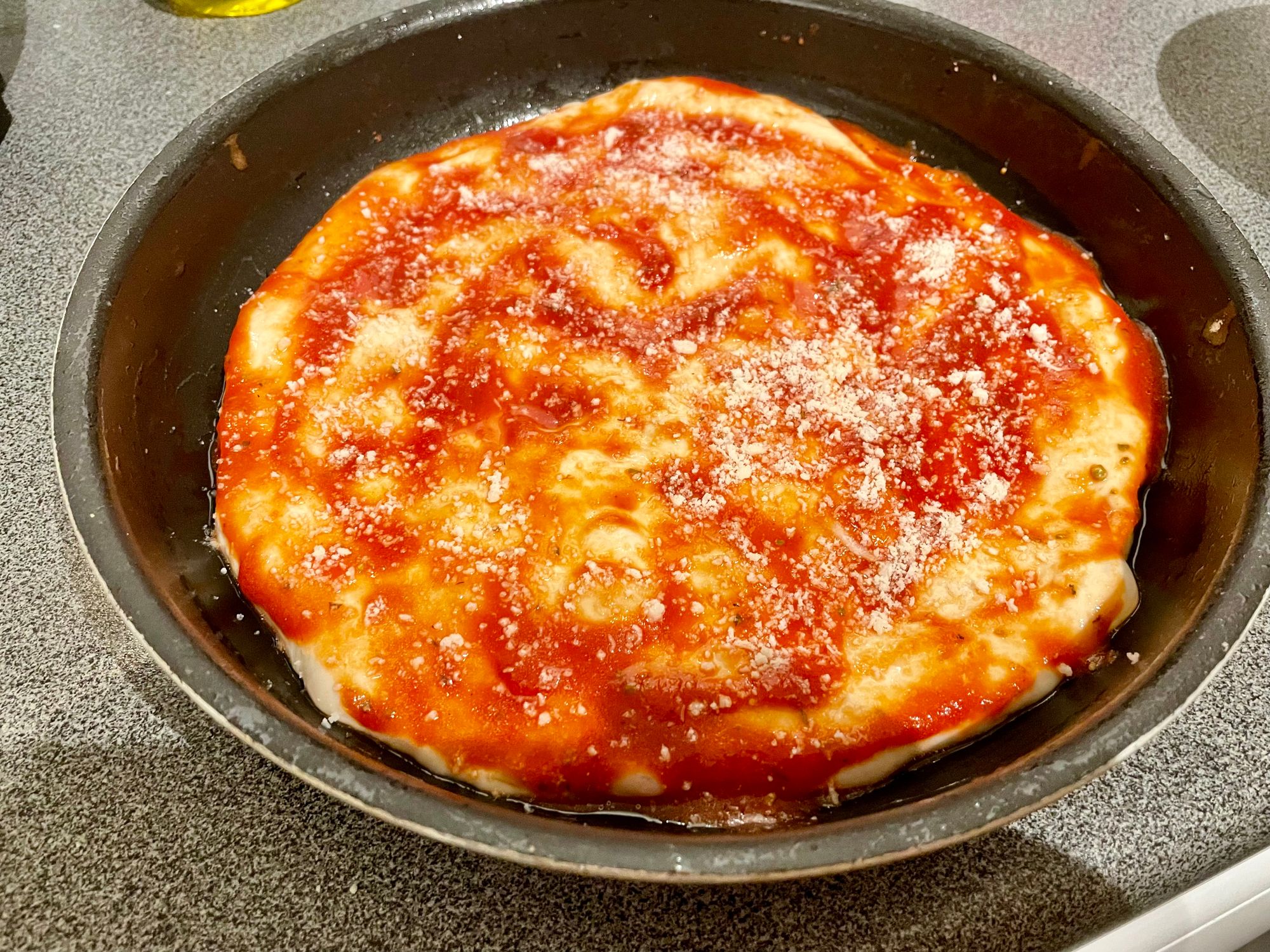 Top with some mozzarella and whatever toppings you want. I go right to the edge with the cheese which gives these lovely crispy bits but if that's not your thing then by all means leave a crust.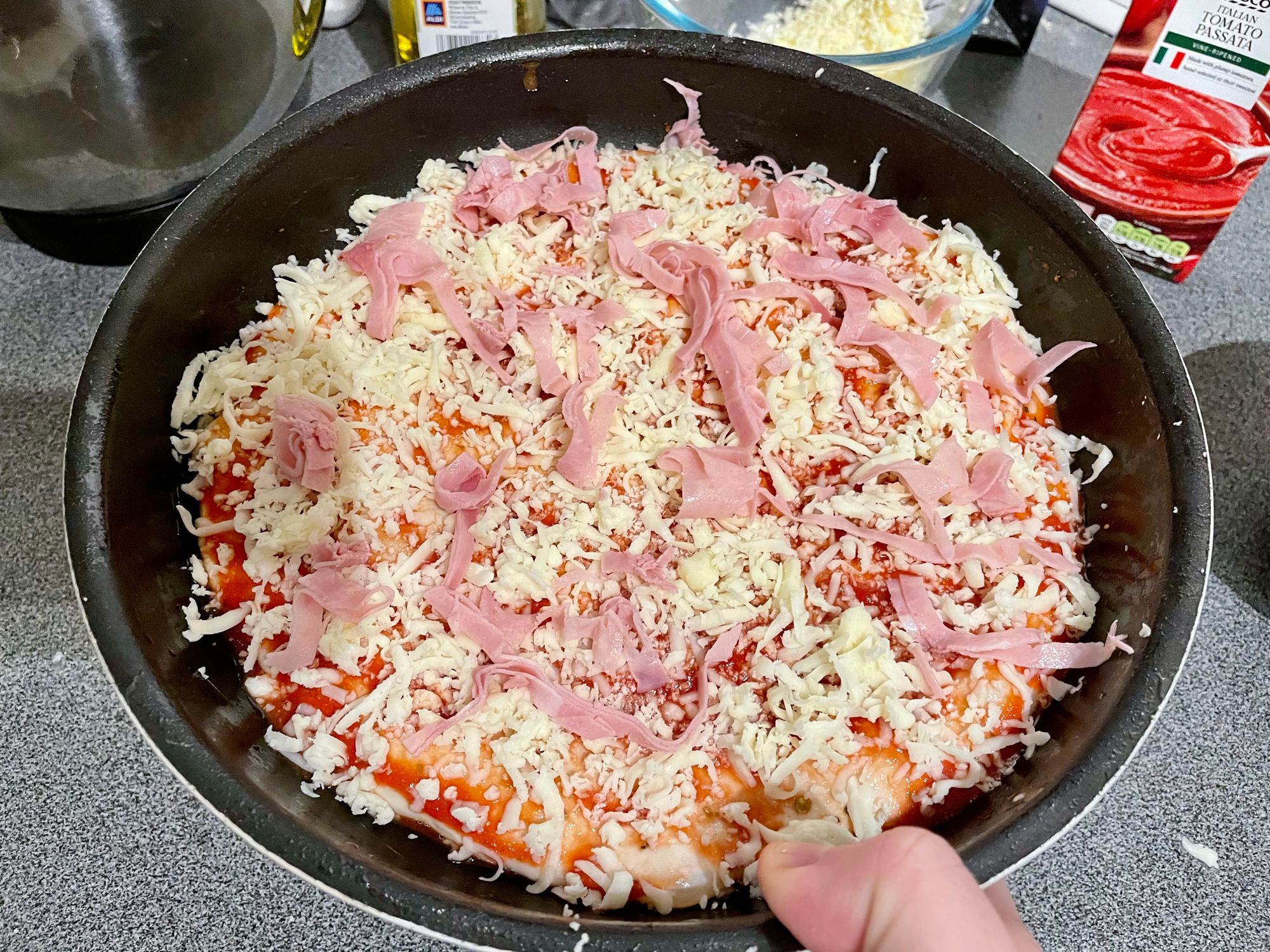 Bake for 12-15 minutes at 230°c fan until the cheese is a nice colour and the base is cooked.
If you find that the top of your pizza is done and you want your base a little crispier put your hob on and fry it until you're happy.
When ready, take the pizza out of the pan and leave to rest for 2-5 minutes before cutting.
🍕 Results
I'm really happy with how these turned out and hopefully you agree! I plan to experiement and perfect it a little more. Perhaps trying a bit of wholewheat flour in the dough or some dough conditioner. Or maybe "00" pizza flour would be great for a pan pizza as well as a Neapolitan style too?
If you try this or have any suggestions for me then please drop me a tweet! I'm @steve228uk on Twitter.
Have fun! ❤️